The following press release was sent to us, and I thought I would pass it on. Pathfinder is a great game and its strength (IMHO) is the steady release of adventure and campaign material. This one looks quite interesting.
Paizo is about to release the first volume of Jade Regent, our latest Pathfinder Adventure Path!
When a decades-old secret is exposed, an unassuming local tavern-owner and a close friend of the PCs discovers her birthright is to rule one of the ancient Dragon Empires of Tian Xia—the empire of Minkai. Yet the current ruler of this empire, the mysterious and increasingly cruel Jade Regent, has no intention of giving up his hold over the throne. In order to save Minkai from a would-be tyrant, the PCs must not only escort their friend from Varisia to Tian Xia, braving the frozen horrors of the Crown of the World, but must aid her in gaining the trust and support of a nation on the edge of anarchy.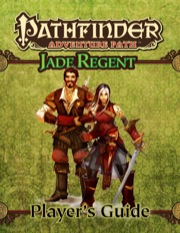 We've also just released the FREE Jade Regent Player's Guide PDF, which gives your players all the spoiler-free information, inspiration, and new rules they'll need to create characters prepared for the mysteries and exotic wonders of the Jade Regent Adventure Path.
As always, each 96-page full-color softcover Pathfinder Adventure Path volume contains about 50 pages of adventure designed for use with the Pathfinder Roleplaying Game, plus a variety of support articles to immerse players in their new campaign. The first volume of Jade Regent, for example, includes the first adventure, "The Brinewall Legacy," written by James Jacobs, who also gives you an exploration of the hinterlands surrounding the town of Sandpoint, a region that's anything but peaceful. Mike Shel provides a look into the mysteries of the oni, cunning fiends that can assume humanoid forms, and the bestiary introduces four new monsters by James Jacobs and Tim Nightengale. The Pathfinder's Journal, by Dave Gross, introduces a new story arc featuring Varian Jeggare and Radovan, heroes of the Pathfinder Tales novels Prince of Wolves and Master of Devils.
We've also got a new treat in store for readers of the PDF edition: Downloads now include an extra PDF file containing interactive maps from the adventure! Open them in a PDF reader that supports interactive elements, such as Adobe Reader, and you'll see a button that allows you to hide the map tags, and another that toggles a player view, hiding secret doors and even obscuring secret rooms!
We're currently sending the first volume of Jade Regent to subscribers, so now is the perfect time to sign up for a Pathfinder Adventure Path Subscription. You won't have to worry about missing an installment, and you'll get 30% off the cover price of each volume, as well as a free PDF of each subscription volume as it ships! Your Pathfinder Adventure Path subscription also entitles you to the Pathfinder Advantage: 15% off of the suggested retail price of all products on paizo.com, with the exception of non-Paizo downloadable files. That discount applies to about 20,000 gaming products—including other Paizo subscriptions!
Of course, you can purchase individual volumes in print or PDF form at paizo.com—or look for Jade Regent in stores starting August 4.
So check out the Jade Regent Player's Guide PDF now, and join us on the paizo.com Jade Regent messageboards to discuss your new campaign!
TAGS: Adventure, Paizo, Pathfinder, RPG